Roland's Hope Story – June 5, 2015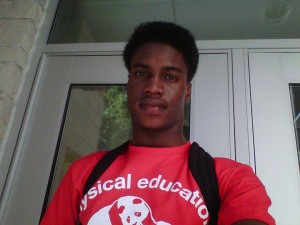 It is with great pleasure that I, Fernando Costa, share the story of Roland, who became a student at St. Thomas Aquinas Secondary School (S.T.A.) in Oakville, Ontario in 2012. I was assigned by the guidance department to oversee his transition to the country and to the school.
Roland was a refugee from Ghana who came to Canada with his mother. He had faced the struggle of hunger, lack of electricity, minimal education and violence on the streets in Ghana. He was hoping for a better future in Canada.
Roland and his mother started their journey in Canada by moving to the Jane and Finch corridor in Toronto. Even although things were better than back home they still struggled with living in an unsafe government housing complex where gun violence and drug trafficking were a regular occurrence. After a month there they relocated to a women's shelter in Oakville where Roland was enrolled in S.T.A.
Oakville provided them with a better setting, but they still struggled without a place to call home and without the financial means to rent anything near the school. After living in the shelter for a week they found a one bedroom apartment which the Charity of Hope helped secure by giving the family the money to pay for first and last month's rent. The school was able to get donated uniform clothing and Roland felt that he had now found a place that not only accepted him but supported him as well.
Roland flourished at S.T.A. that year and he built strong relationships with his peers and adults alike. He joined the track team in the spring of 2013 and was quickly seen as the fastest runner in the school and was in the top three in Ontario. He won the Track and Field award at S.T.A. in 2013 and 2014.
This spring the Charity of Hope has helped Roland in his pathway to Humber College by giving him financial support. He has used some of that money for driving lessons, and to purchase a computer for school. The rest will go towards his tuition for Humber College in the fall.
I have met hundreds of students over my years in education and Roland by far stands out amongst them all. I have known Roland for almost three years and his presence here at St. Thomas Aquinas High School has been a blessing for all who have crossed his path, including myself.
I believe it is Roland's heart that makes him special. He goes out of his way to say hello to people on a regular basis while others continue to walk right by. Most of these people to whom he says, "hello" have the greatest struggles. I know for a fact that his kindness has transformed a few of these to a better quality of life. The best part about Roland is that he does not see the goodness in what he does. He just lives that way on a daily basis and through osmosis things around him get better. I know I have experienced that myself and that he has made me a better person as well.
Roland has told me that, "S.T.A has made me who I am". However, I believe that it takes a village to raise a child and that many supports have made Roland who he is, including the help from the Charity of Hope.
There is no doubt in my mind that Roland will be a success in life and that it is no coincidence that he chose the social service program at Humber as his major. He will now continue his mission to make things better for the disenfranchised people in society as he can empathize with their struggle. Thank you Charity of Hope for your part in shaping Roland into the person he is today.
Fernando Costa, Counsellor at S.T.A.
The Charity of Hope has made a huge impact in my life; they helped me during the time of most need when I first arrived from Ghana. Also, because of the Charity of Hope I can now go to Humber College and continue my post-secondary education. My dream is to help people succeed and help them with their struggles.
One of the things I value most in my life is education, and now with the latest support from them I can make college education a reality. I am also extremely thankful for the opportunities given to me by God; with him I can't go wrong. Compassion was also one of the values I have gained throughout my high school career; the Charity of Hope also showed me compassion by supporting me throughout my three years.
Roland