Upcoming Event – Giving Tuesday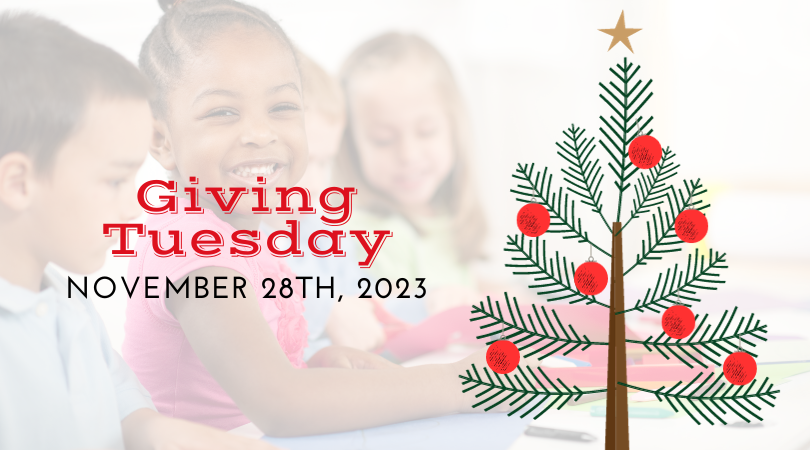 Join Us In Creating A Brighter Future!
In the spirit of the approaching season of joy and goodwill, Charity of Hope extends a heartfelt invitation to become a beacon of light for those in need on Giving Tuesday, November 28th, 2023.
This time of year, as the air turns colder and the days grow shorter, the warmth of your generosity can bring comfort and joy to those who need it most. Since 1996, we have been weaving threads of hope into the lives of thousands of children, youth, and families, creating a community of support that spans generations.
This year, we urgently seek your support to make Giving Tuesday a resounding success.
What Is Giving Tuesday?

❤️ Giving Tuesday started in 2012 as a day for anyone, anywhere to give, and it's grown into the biggest giving movement in the world.

❤️ Giving Tuesday follows Black Friday and Cyber Monday. The idea is to put aside consumerism and give back to those in need and build stronger communities through generosity.

❤️ The goal is to create a massive wave of generosity that lasts well beyond that day, and touches every person on the planet.

❤️ GivingTuesday is celebrated on November 28, 2023 this year, in over 90 countries.

Here's How Your Generosity Can Make A Difference!

Support a Student's Week of Nutritious Meals:
→ A $10 donation provides a weeks worth of breakfast and healthy snacks
→ Become the cornerstone for a student's focus, energy, and success in school

Illuminate the Holiday Season for a Child or Youth:
→ A $100 donation provides a Christmas Hamper or Basket
→ Fill it with essential food, toys, and items for a joyful celebration
→ Bring sparkle to their eyes and joy to their hearts
Previous Events – 3rd Annual Golf Tournament Fundraiser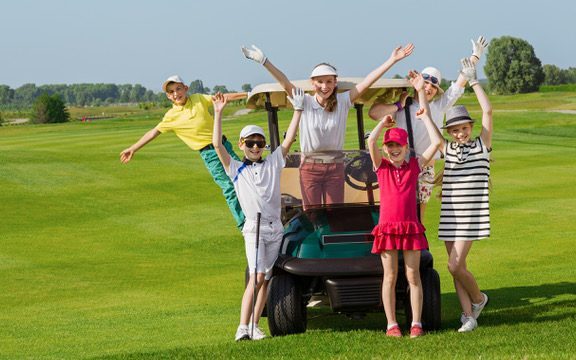 If you are interested in a great round of golf, at a picturesque golf course, with a delicious grab-and-go lunch and dinner, along with golf trophies and raffle prizes, all while supporting a great charity, then this golf tournament is for you!
Join us on August 17th for our 3rd Annual Golf Tournament Fundraiser at Southbrook Golf & Country in Hamilton!
Thank You for Your Love and Support for Charity of Hope!
Charity of Hope's 23rd Gala My Town was a massive success, raising $127,000.00 for the children and youth in our community!
We could not accomplish this without the support of our partners like you.
On behalf of the disadvantaged children and youth that receive vital assistance, thank you!
"Our Town Supports The Charity of Hope"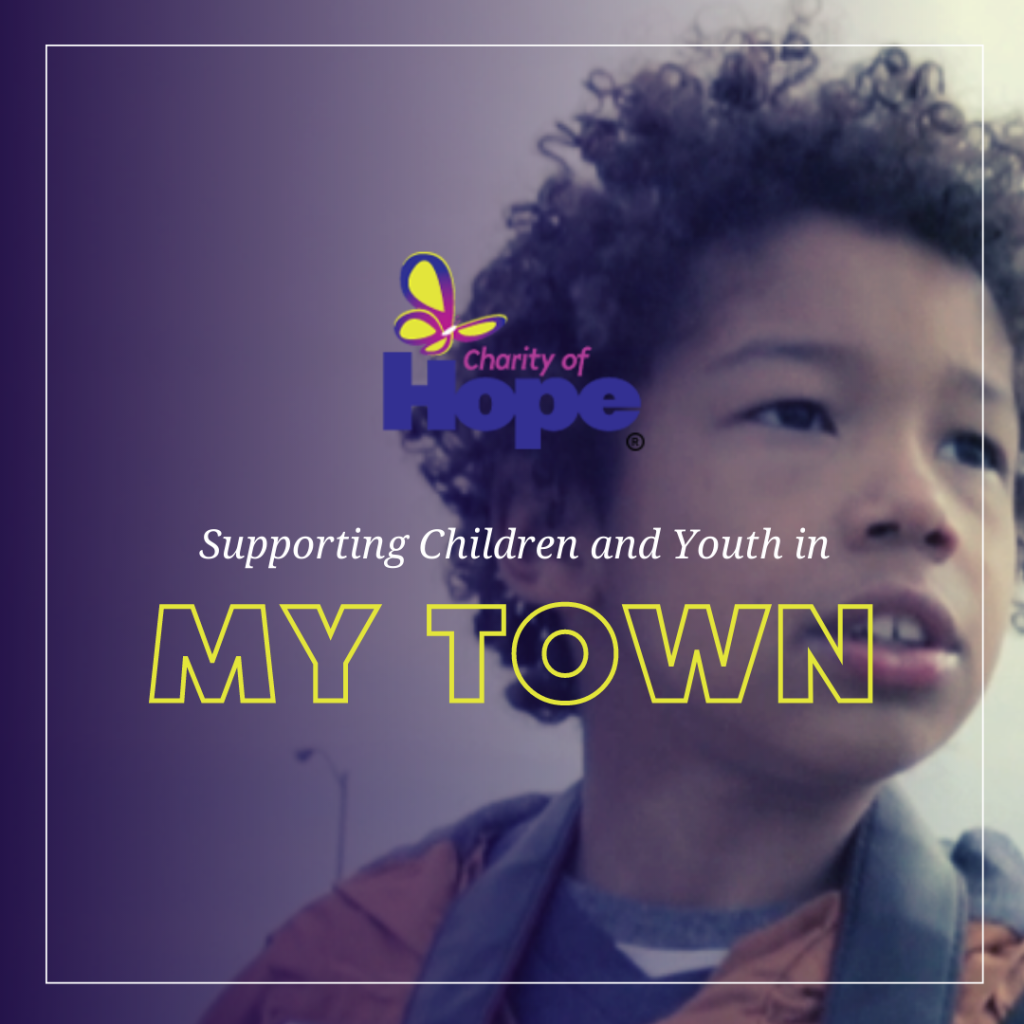 Previous Events – 23rd Gala 'My Town'
We are pleased to announce our 2023 Charity Of Hope Gala and we invite you to join us for a special evening along with JUNO winners and GRAMMY Nominee, Glass Tiger as we come together to support underprivileged children and youth in our communities across Canada.
Join us Friday, March 24, 2023, at Carmen's Banquet Center for "Our Town Supports The Charity of Hope" fundraising gala!
Dinner
Dancing
Live Entertainment featuring Glass Tiger
Raffles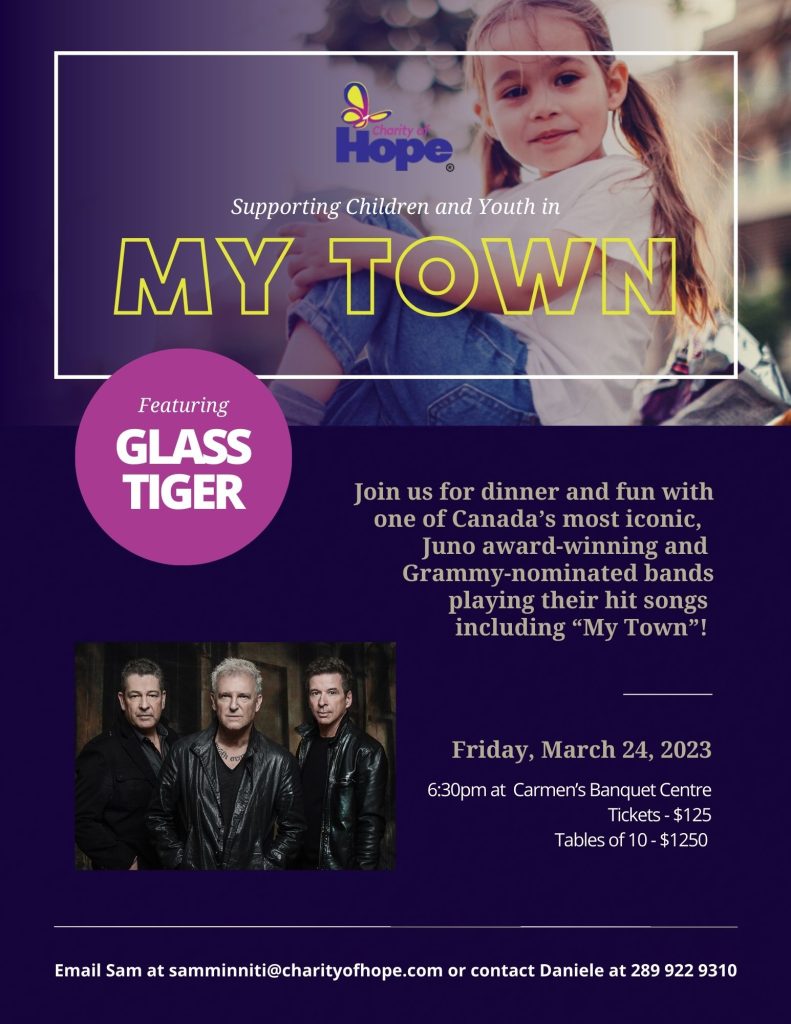 Other Ways To Participate
If you're unable to participate in the event but still wish to support the Charity of Hope, please consider making an online donation following the Donate Now button at the top of the screen.
☎
Questions? Please contact:
Daniele Dagenais
Charity of Hope Executive Director
daniele@charityofhope.com
(289) 922-9310
---
Available Now!
It All Started With Lasagna
The Life Story of Peter Mercanti and His Ingredients for Business Success, Leadership and Happiness by Peter Tassi
It All Started with Lasagna is a chance to get up close and personal with Peter Mercanti, a successful Hamilton businessman who came to Canada as an immigrant at age seven with his parents. With forthright honesty, Peter shares the story of his rise to business success—starting off at the age of eleven with selling "recycled" car engines to the scrap yard from which they were liberated—and the development of Carmen's Banquet Centre, his flourishing wedding and event venue, and associated hospitality businesses.
All net proceeds from the sale of this book will be donated to the Charity of Hope.
Details Below to Purchase or Click Here.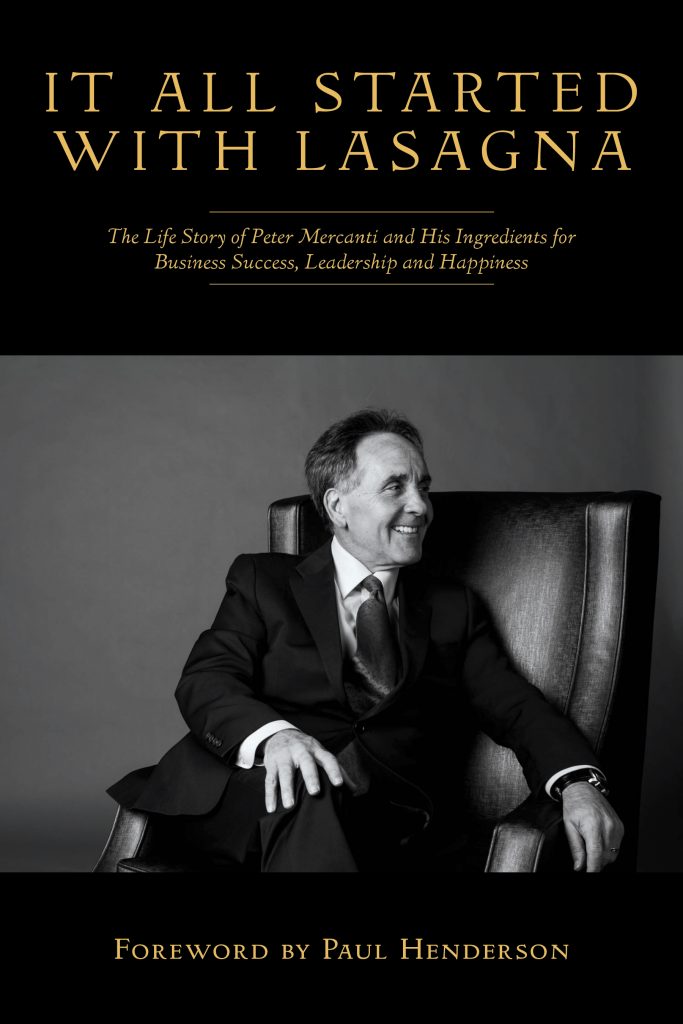 Click here for more Details and to Purchase on the Publisher's Site FriesenPress or Scan the Code Below: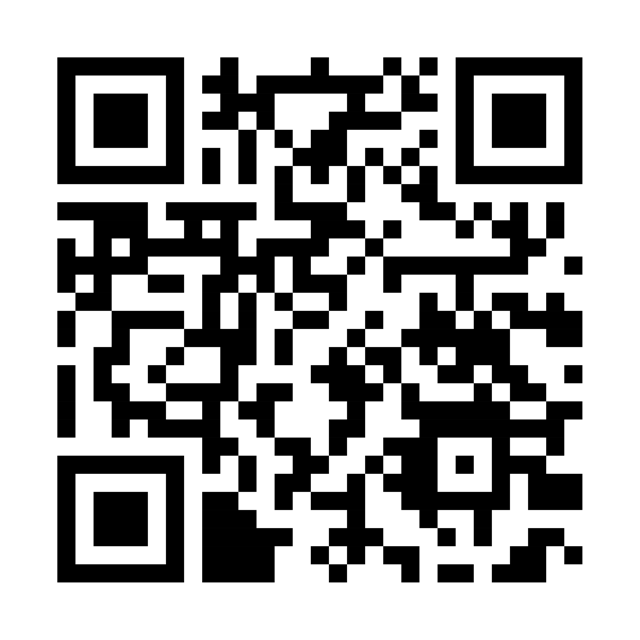 Thank you to everyone who has supported and continues to support
If you have any questions or need any assistance, please call or email Daniele Dagenais at (289) 922-9310 or daniele@charityofhope.com.
Thank you,
From your Charity of Hope Co-Chairs,
Erik Ferrara and Julie Lamparski